Custom Sheet Metal Fabrication & Installation
The west's best just got better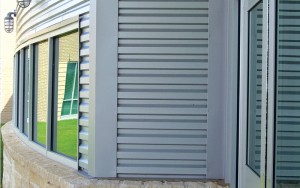 As the West's premier roofing and waterproofing resource, Letner offers a complete line of competitively priced services, ranging from design and installation to repair and preventive maintenance. What's more, we top off every Letner project with our exclusive Peace-of-Mind Guarantee that assures your complete satisfaction with workmanship and materials.
Letner is the West's premier commercial roofing resource and a trusted partner to successful contractors, architects and facilities managers throughout the region.
As further evidence of our commitment to service, we have established a new, in-house division solely dedicated to the fabrication and installation of precision engineered architectural and industrial sheet metal, and metal roofing and wall panels.
Convenient single point of contact
This value-added capability allows us to meet virtually any metal-related protective or aesthetic design need, quickly and efficiently, while giving you a convenient, single point of contact during every phase of preparation, installation and testing.
Any metal. Any budget.
From your design or ours, Letner's expert fabricators skillfully create a wide variety of custom metal parts from the industry's most widely used materials, including copper, aluminium, stainless steel, galvanized and more. Available components and subsystems include:
Gutters
Coping
Fascia
Downspouts
Flashing
Skylights
Roof hatches
Wall louvers and vents
Premium quality metal roofing and wall panels
By leveraging decades of experience, plus longstanding relationships with leading manufacturers, we'll help you select and install metal roofing or panels that meet your exacting specifications for quality, aesthetics and value.
Besides their inherent beauty and versatility, metal roofing and wall panels are lightweight, non-combustible and corrosion resistant—easily able to withstand even the harshest weather conditions. Metal's benefits include:
Unmatched durability
Minimal maintenance
Low lifecycle costs
Longer lifetime warranty
Call today!
To learn more about Letner's metal fabrication and installation services, or other benefits of metal roofing and wall panels, contact our Sheet Metal Division today.